Incredible Rocks of India includes the balancing rocks, pillar rocks and the most beautiful and amazing Marble Rocks of Bhedaghat. The amazing shape and size of these natural rocks are ranked in world's amazing rock formations list.
An overview of the most incredible natural rock formations in India:
Toad Rock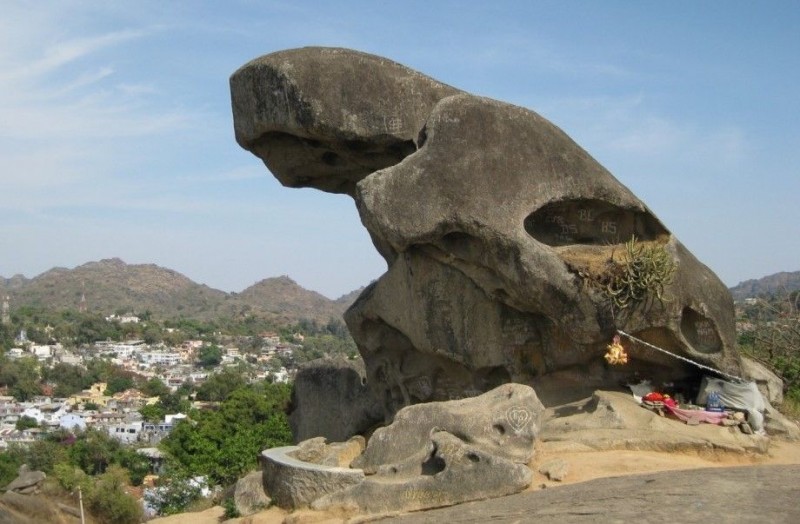 Toad Rock is a huge rock formation, resembling a toad and thus the name. Located in Aravalli range, it is known for pleasant atmosphere and offers beautiful views of the lake and hills. Toad rock along with Nandi rock, Camel rock and Nun rock are suitable for trekking and rock climbing.
Gilbert Hill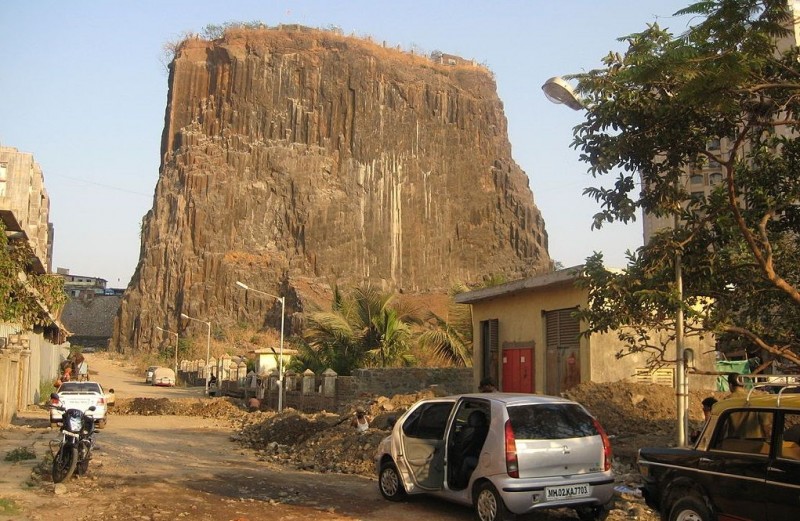 This 200 ft tall monolith structure of predominantly basalt rock is 65 million years old. It was formed during the Mesozoic era. Interestingly, during this era there was a huge volcanic explosion in which 'Gilbert Hill' was squeezed out of the surface of the earth. Gilbert Hill is one of the two such structures found in the entire world. The another such structure is found in Wyoming, USA and is called 'Devil's Tower'.
Yana Rocks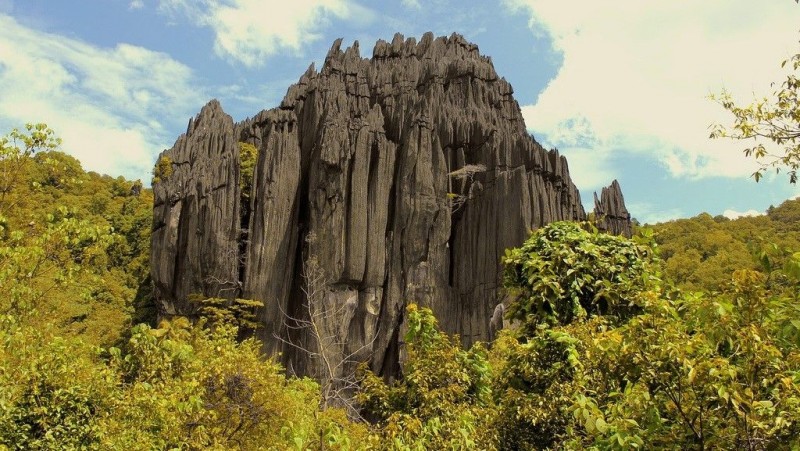 Yana village of Karnataka is famous for its unusual rock formations known as Yana Rocks, located in the Sahyadri mountain range of the Western Ghats. These two massive rock are known as Bhairaveshwara Shikhara (120 metres in height) and the Mohini Shikhara (90 metres in height). The huge rocks are composed of solid black, crystalline limestone.
Marble Rocks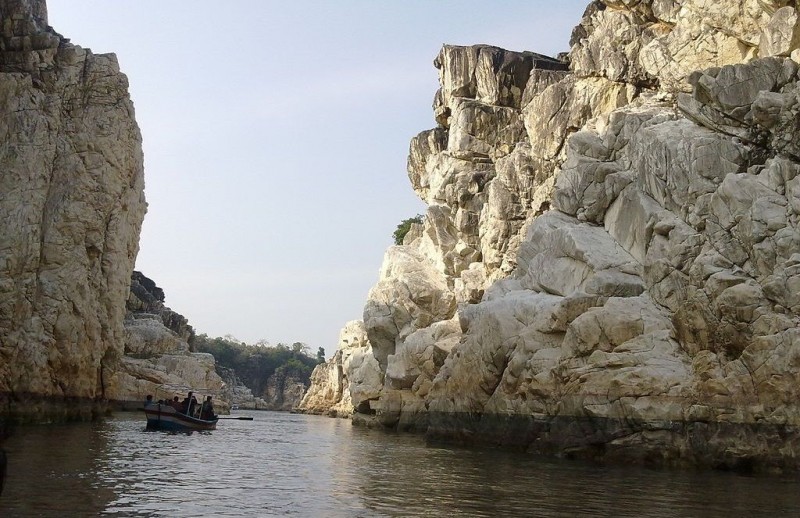 The Marble Rocks are 3 km long beautiful gorge along of the Narmada River in the city of Jabalpur. Its very popular tourist destination in the state of Madhya Pradesh known as bhedaghat.  Marble rocks in Bhedaghat are the only of its kind in India.
Basalt Rocks at St. Mary's Islands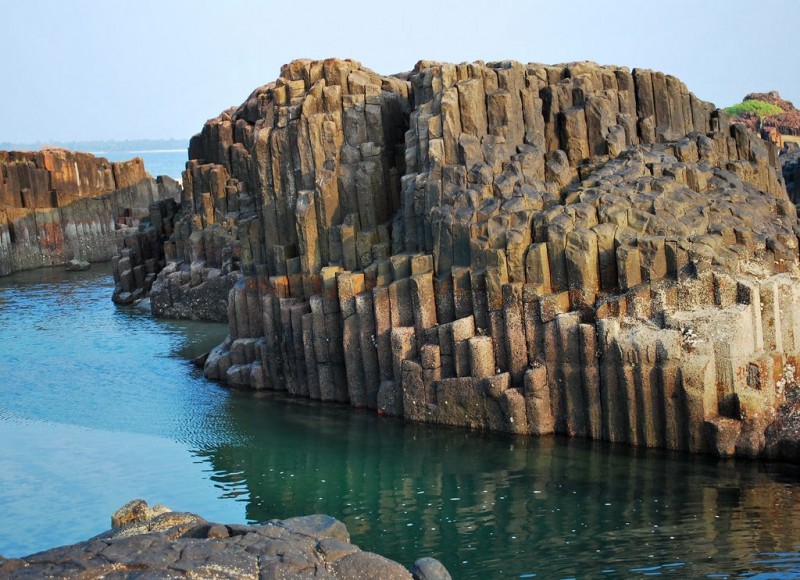 St. Mary's Isles are a group of small islands located 7 km from Udupi. The island is known for its famous basalt rocks which have crystallized into columns and split into hexagonal mosaic. Perhaps, this is the only spot in India where basaltic rocks show up such peculiar formation.
Pillar Rocks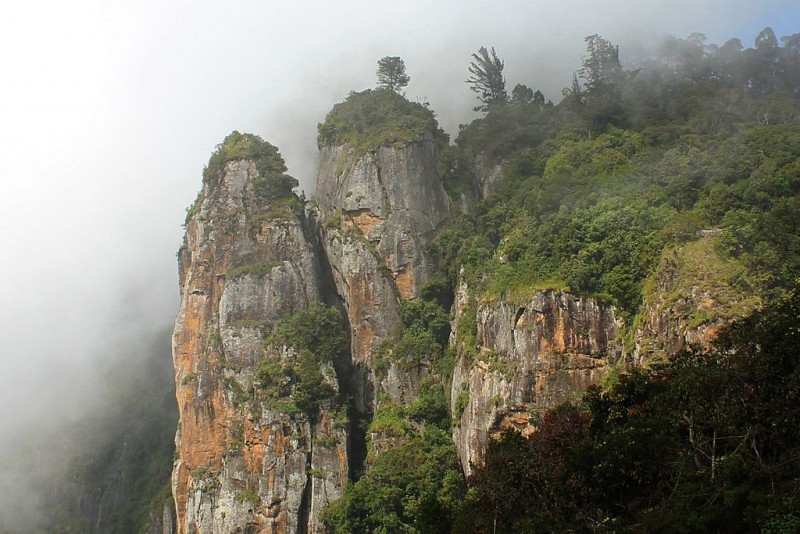 The Kodaikanal Pillar Rocks are made up of three massive granite rocks whose heights extend up to 400 feet. Sited 8 km from the lake tower, tourists can obtain a spectacular bird's eye view of the surrounding panoramic vistas. There is an excellent public garden adjacent to the viewpoint.
Phantom Rock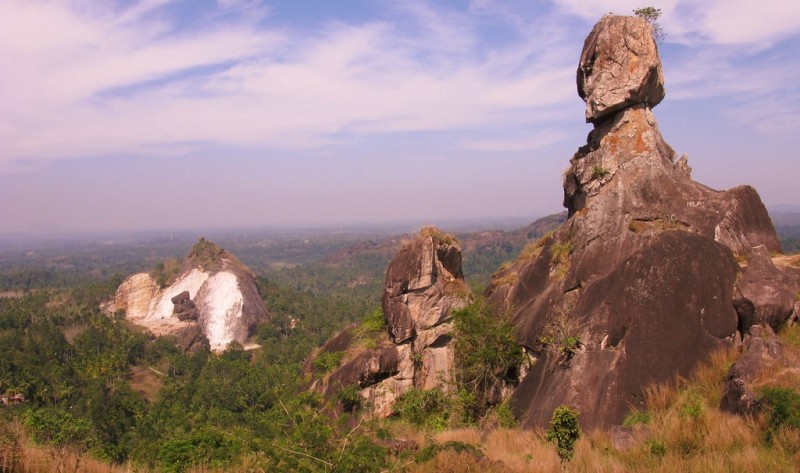 The Phantom Rock is a beautiful archeological site located in Wayanad district, Kerala. This piece of natural art which has a skull shaped rock over a small boulder is formed out of huge metamorphic rocks and is locally known as "Cheengeri Mala" or "Thalappara".
Natural Arch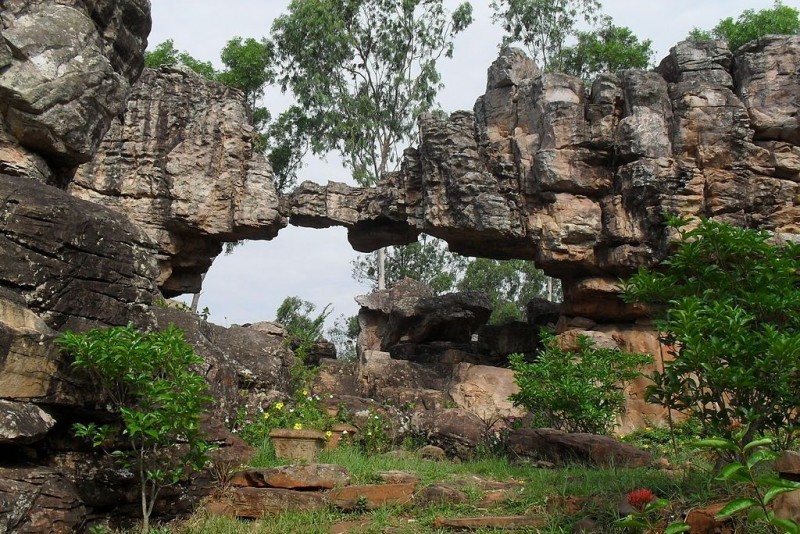 Natural Arch on Tirumala hills is a geological wonder of India, located in Andhra Pradesh. The arch is one of the few natural arches or bridges in Asia and the only natural rock arch in India. The arch measures 8 m (26.2 ft) in width and 3 m (9.8 ft) in height, and it is believed to be several million years old.
Himalayan Rocks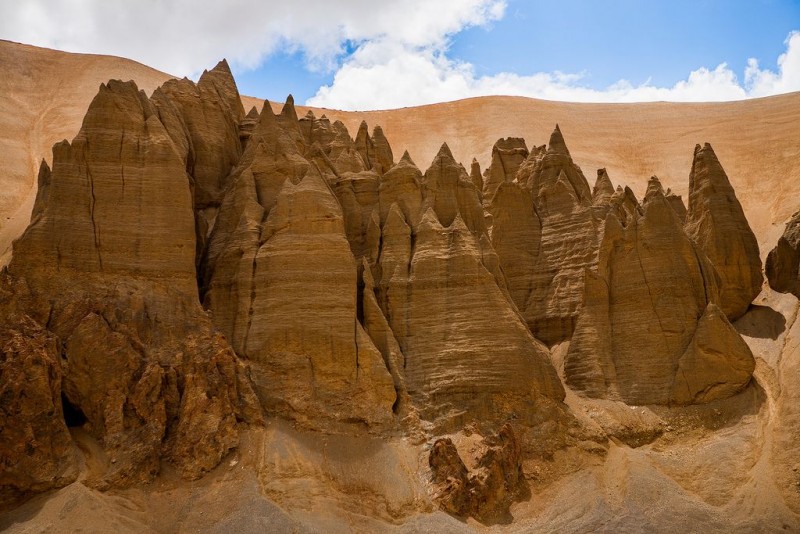 The Himalayan rock formation is situated on the highway to Leh in northern India, the Leh Manali rock formations is one of the must see thing on highway.
Balancing Rock, Mahabalipurum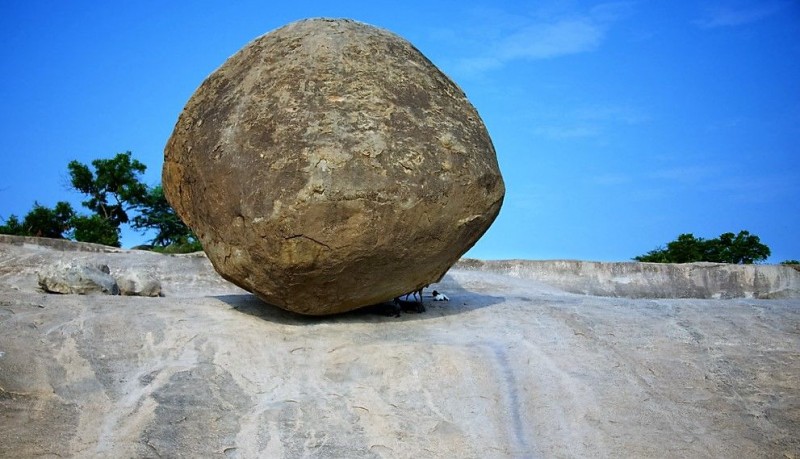 The Krishna's butterball is a giant balancing rock, 5 meters in diameter, perched on a smooth slope, seemingly defying all laws of physics. It weighs over 250 tons and miraculously stands on an extremely small, slippery area of a hill.
Balancing Rock, Jabalpur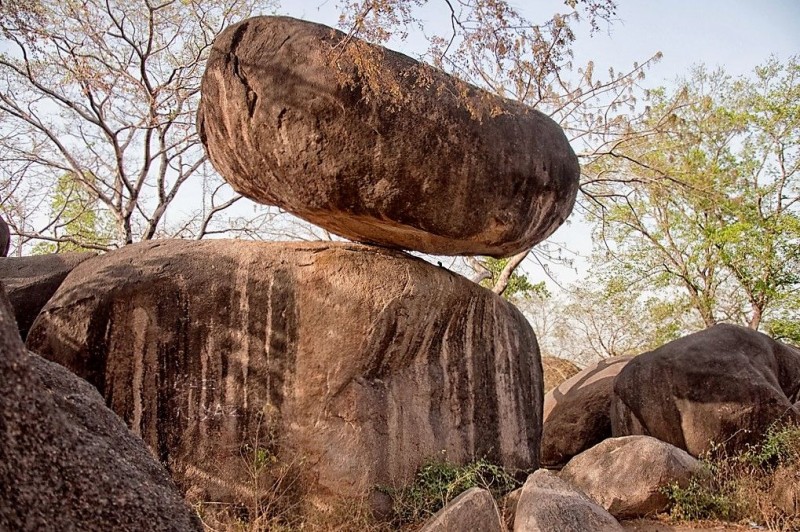 Balancing Rocks is situated at the base of Madan Mahal Fort, 6 km from Jabalpur, near Shailparna. The rock balances on the huge base rock by just touching it slightly. Yet it is amazingly that the Balancing Rock survived even in earthquake of magnitude 6.5. It is said that it's impossible to disturb the balance of this rock.
Nijagal Betta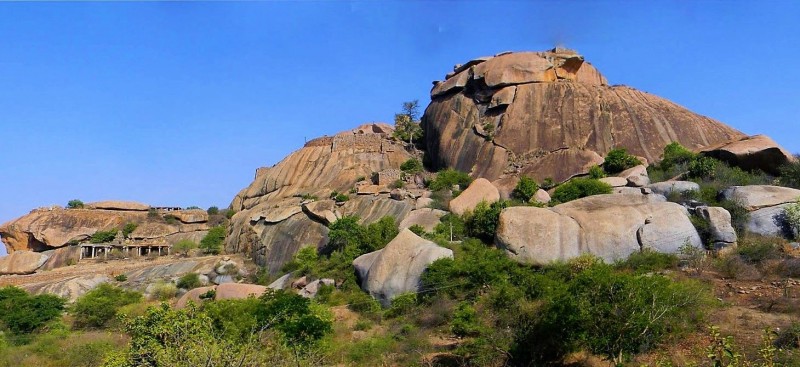 Nijagal Betta is a hill rock located at few hundred metres from the Bangalore, The hill is mixture of ruined forts, temples and some amazing rock formations. Here in Nijagallu Betta, its believed that a war was fought between Hyder Ali and Peshwa Madhav Rao.
Ramanagar Rocks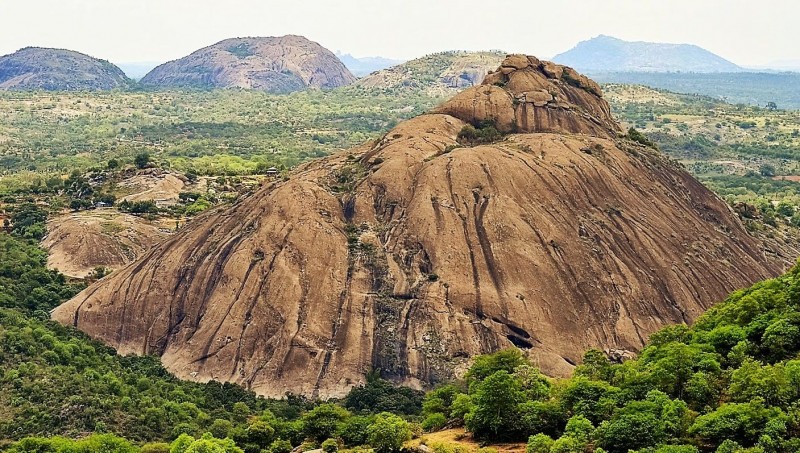 Rocks of Ramanagar and boulders are very famous for adventurous activities like rock climbing, rappelling, trekking. The rocky hills of Ramanagaram are knwon for natural rock formations in India.