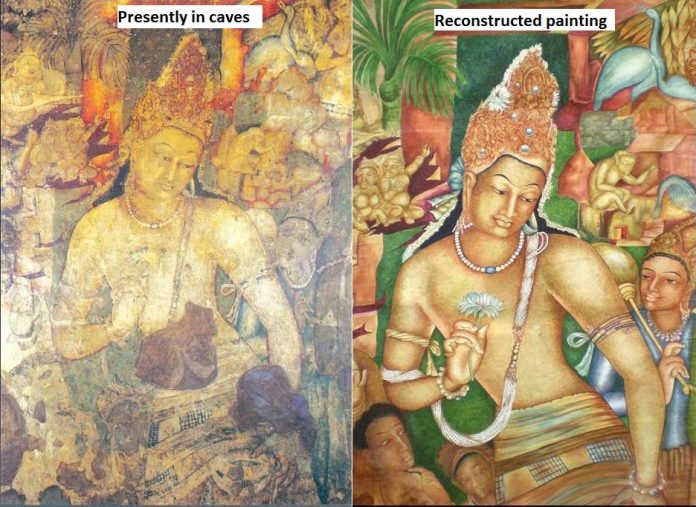 Despite a hoard of scholars having explored the significance of Ajanta it still remains fathomless due to its boundless scope for investigation and inquiry. An interminable and immortal work, it provides internal space to rummage and research. Some paintings in Ajanta still retain the original splendor but most have either withered, faded, blurred, creased or degraded. Scientists have tried to preserve by applying the layer of some chemical on wall painting to make frescos clear and fresh, but after a due period of time these chemicals reacted awfully which damaged frescos more terribly. ASI started pasting cement blotches wherever painting surface pilled off, with this result, in most of the caves what is conspicuous more is blotches of cement more than paintings.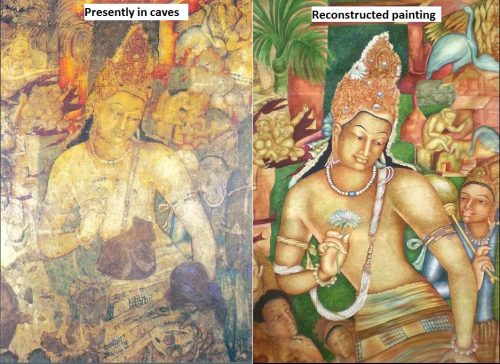 Likewise, almost all struggle were failed. There are virgin and untried areas of scrutinizing through a complete regeneration of all those portions of paintings which have been erased, abraded of damage due to time, climate and man. Now only option leftover is to restoring World Heritage separately on canvas without touching and damaging original monument. As per the rule of ASI.
The centuries-old paintings of Ajanta caves recreated exactly as they were when freshly painted by the renowned Artist from Marathwada Mr. Pimpare from the past 50 Years, trying to recapture the past glory of the wall paintings on gigantic sheets of paper. Recreates the paintings of the Gupta – Vakataka period around 450 A.D. unfolding to the world the actual glory of Ajanta which over the years has suffered deterioration. The cave paintings of Ajanta have been damaged to such an extent that it is practically impossible to decipher what the artists wanted to convey through their brushes.Mr. Pimpare has completed 300 paintings which measure from one foot to 75′ x 4′ in length capturing minute details of expression, facial flexion, contours of the body, movement of the muscles and other minute details.
Inadvertently magnetized by Ajanta paintings at the age of twelve, Mr.Pimpare has remained busy in recreating the deteriorating paintings of Ajanta.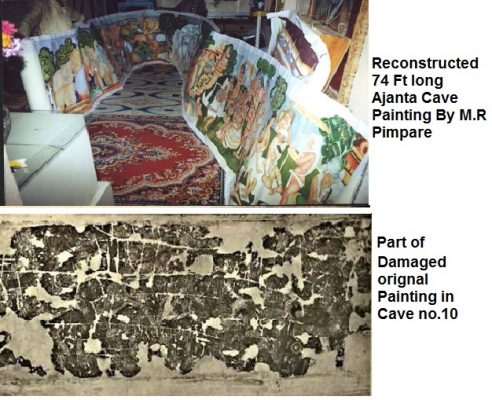 Articulate & microscopic visibility could become possible due to the patient and tenacious efforts put in by Mr. Pimpare for fifty years. Artist Mr. Pimpare has undertaken an entirely new approach of preservation and conservation, He has also utilized scientific methodology by taking assistance of modern equipment like epidiascope to enlarge the details of the photographs .his has enabled him to complete major portions of the paintings. For discerning details of these paintings micro-lens was also used. Mr. Pimpare has emerged in deep into the sea of Ajanta colours to dig into the secrets shrouded by thick layers of dust. There is an ocean of historical facts which can be perceived through this art but most scholars have ignored this kind of study. The artist reveals minute details of the palm are white, where he attempts at distinguishing between the outer colours of the skin and protected skin. Microscopic details of the veins and arteries are lucid and anatomical study is extremely; minute. Even the movement of hair blown by air is beautifully drawn. There is an evidence of advance medical science where a person is seen donating his eyes. Mr. Pimpare set out to work on Ajanta paintings on the basis of work done by both Indian and foreign artists.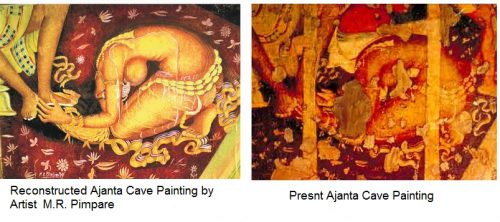 Mr. Pimpare' s greatest feat which required herculean efforts is the Shad-danta Jataka longest panel in cave 10 which measures 74 feet, has been completely rejuvenated. Initially, the entire line work treated and perfected after which the colors were filed carefully and the paintings perfected in its original shape, only 10% of the painting now exists. There are scratches throughout the panel of the Jataka tale and nothing much is visible. Despite this major drawback Pimpare has managed to complete this painting. The 2000year old paintings have been retrieved and the original effect is recreated. These paintings are significant as they possess universal value due to the efforts at exploring details not visible to the eye.
A number of reproductions have been produced since and lying either in the custody of the Archaeological Survey of India or a few national museums. But no copies have been patched up the way Pimpare has ventured.
(Submitted to MysteryOfIndia by Mayura Pimpare)