During my last visit to Bangalore in 2015, I took a one day trip to Shravanabelagola, Belur and Halebeedu Temples in the state of Karnataka. This region in South India is full of temples and lush vegetation. The three temples are quite far from each other and are well worth a trip if you can spare a day while in Bangalore. The tour is ideal for anyone who is a fanatic of temples and heritage, like I am. I booked the tour at the Karnataka Holidays website for about 800 rupees in an AC bus. Quite cheap considering it lasted sixteen hours! I was truly amazed since none of the countries I've been to offer such long day trips. I really liked it though since I got to see so much in a day and without the tour, it would have been impossible for me to see the three temples.
The tour left from Badami House in Bangalore at 6am. Throughout the day, the bus stopped at roadside restaurants for breakfast, lunch and dinner. Food wasn't that good due to restaurants being the typical stop over for tourists but it was eatable. Other than that, there's people and stalls selling fresh fruits, cold drinks and snacks at each stop, where you can recharge your energy.
Shravanabelagola & Darshan of Lord Bahubali (Gomateshwara)
This is a Jain temple, a religion that does not follow any supreme being and concentrates on bringing the soul to divine consciousness for liberation. I had never thought about the possibility of an atheistic religion. Some of the main elements of this religion are non-violence, truth, non-stealing, non-attachment to material goods.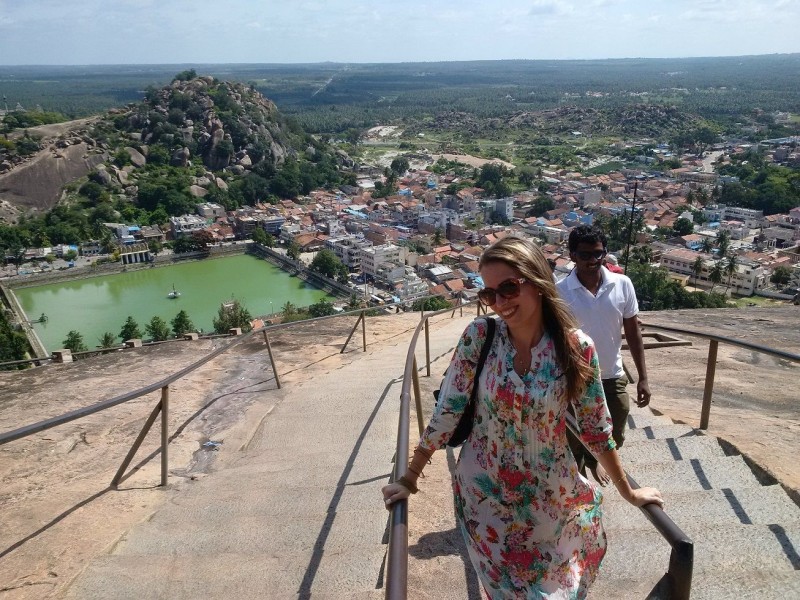 The temple is located at the peak of a mountain. You have to go up some steps. At the top, you will be rewarded with breathtaking views of the temple surroundings. The temple houses the highest monolithic of the world, measuring about 18 meters. It is the figure of Gommateshvara Bahubali. It is believed that this was the first human being to attain liberation of his soul in the middle of its life cycle. It dates from the tenth century. This is one of the most important places of Jain pilgrimage. Regardless of religion in India, it is traditional to make pilgrimages to holy places. Every twelve years, this monolithic is bathed in milk and other foods, including gold coins as a sign of devotion.
It's worth going around the temple to get even more views but one needs to hurry up a bit because the bus doesn't stop for long.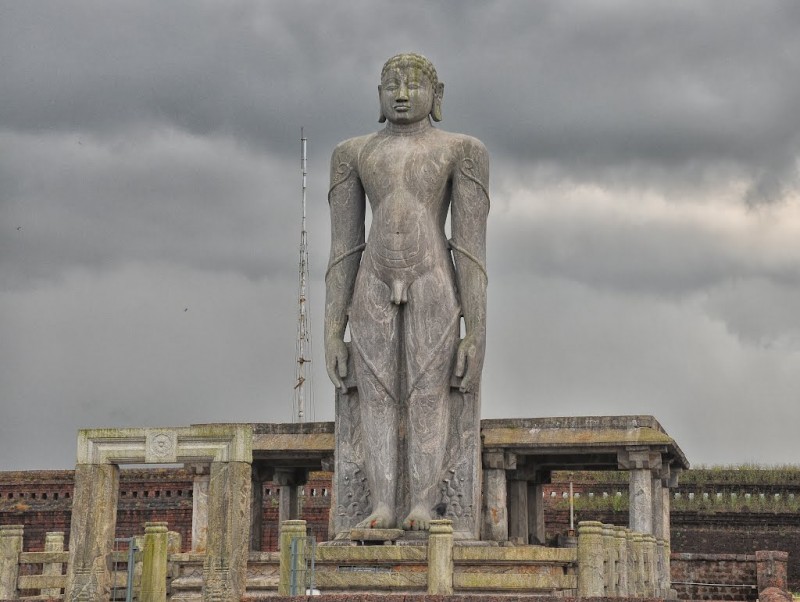 Hoysala style Chennakeshava temple, Belur
The Chennakeshava Temple dates from the twelve century and was built by the Hoysala Empire King Vishnuvardhana or Bittideva (Bittideva was the name of the king when he was Jain, he converted to Hinduism during his reign) probably to commemorate military successes. This is the first temple in this style to have been built by the kings of the Hoysala dynasty. A large temple, highlighting its luxurious décor which was completed by the founder's grandson. Within the complex there are several temples in various sizes.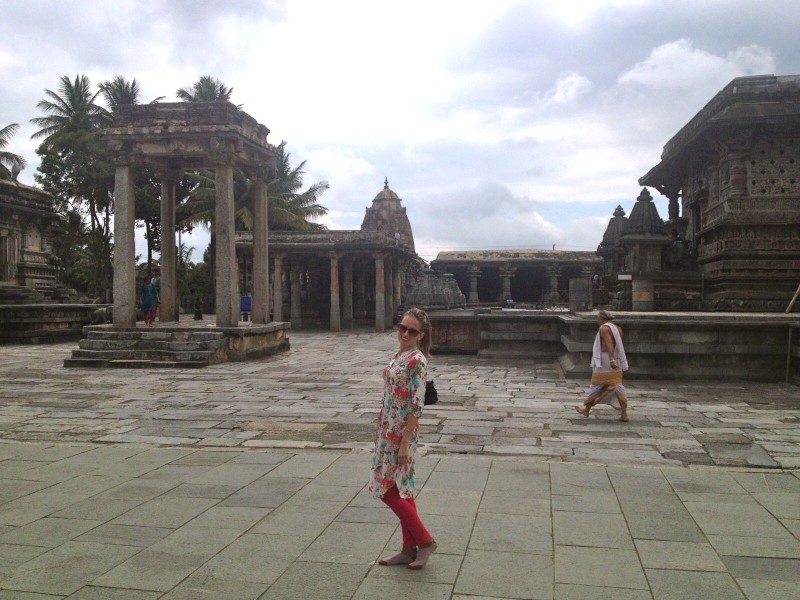 The Chennakeshava Temple was built on a star-shaped platform, typical feature of Hoysala style. Its walls are richly decorated with very refined carvings, decorated with panels and reliefs depicting deities. The Sikhara (rising tower) above the sanctuary has disappeared but the sculptures at are still numerous and intricate. The temple is famous for its finely carved little figures that consist of dancers, musicians, young women in a vegetal setting and in daily life poses, called madanikas (or mandanakai, Salabhanjika, Shalabhajika or yakshi).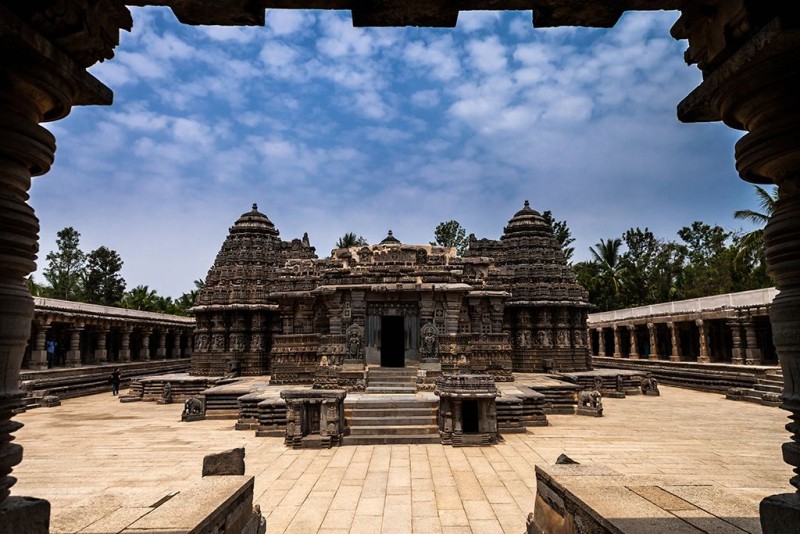 Hoysala style Hoysaleswara Temple, Halebeedu
The Hoysaleswara Temple, dedicated to Shiva, is one of the most sublime examples of Indian architecture. Dating to the twelve century, it is located in a platform that is about two meters high and covered with stone blocks. This platform is laterally covered by eleven parallel friezes of elephants, lions, scrolls, horsemen, celestial beasts and birds.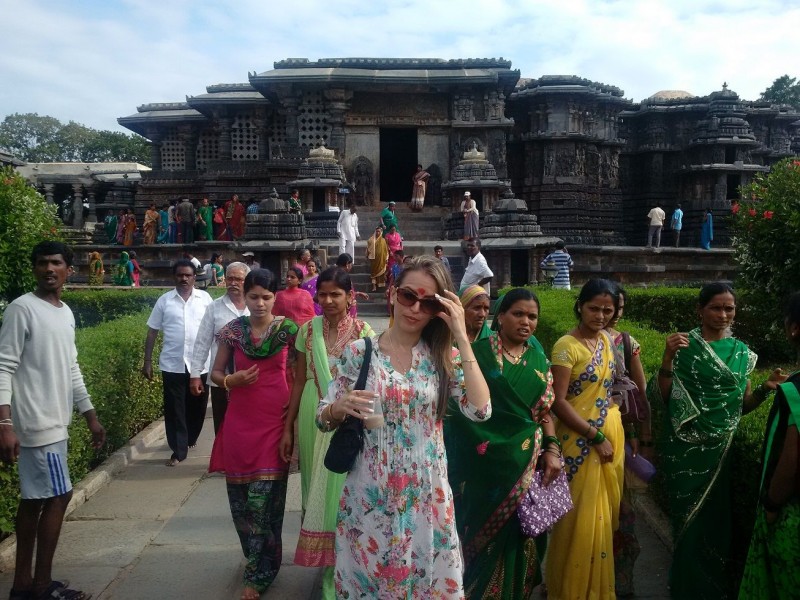 Each frieze has a length of about 215 meters and is completely covered by sculpture. To give an example, the baseboards include at least two thousand elephants carved with great skill and most of them richly caparisoned and with a man on top of them. Similar decoration can be seen in the ten remaining friezes.  The temple is surrounded by lush gardens that, to my surprise, are well kept and they represent a good spot to practice yoga if you go there for a few hours. Undoubtedly , Hoysaleshwara temple is one of the most impressive samples of human artistic skill that can be found.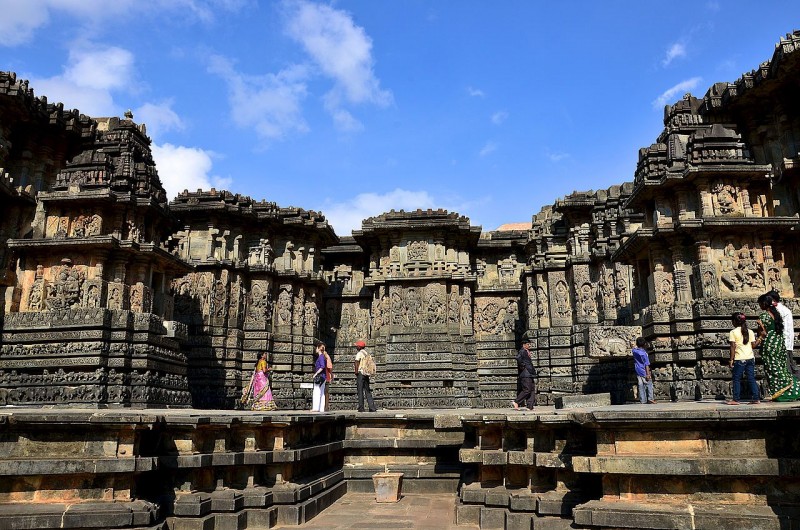 After this, it was time to return home after such a long day. I got back to Bangalore at 10.30pm. Obviously, I was exhausted and had a good night sleep. I will not hesitate to take these sort of tours again during my next visit to Karnataka.
Written by Carmen from Carmen Everywhere.