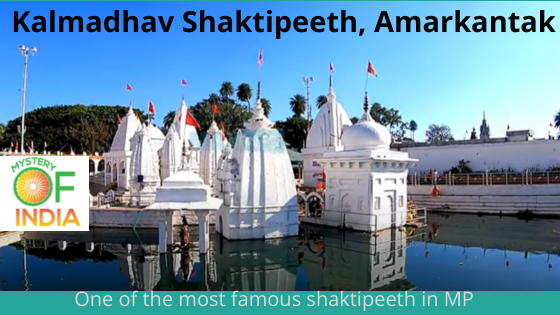 Kalmadhav, Amarkantak
Kalmadhav Temple is one of the Shaktipeeths in India where the incised body parts of Devi Sati fell. It is said that there are as many as 51 Shaktipeeths in all over India and Kalmadhav Temple in Amarkantak is also one of them. 
The Origin of Kalmadhav Temple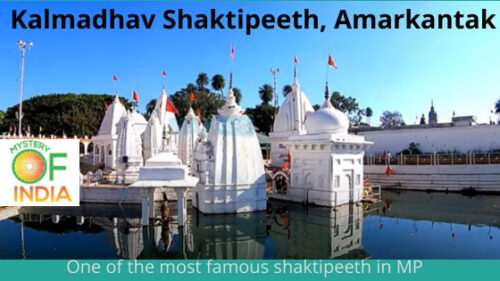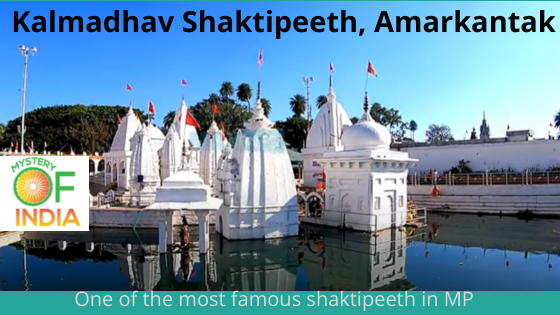 The story of Shaktipeeth is quite famous in Hindu culture and sculptures. Devi Sati got married to Lord Shiva against the will of her Father King Daksha. One day King Daksha organized a holy festivity and invited everyone except Lord Shiva. Devi Sati visited her father to make him understand his mistake but in return, King Daksha insulted Lord Shiva. Devi Sati could not stand the insult of her husband and entered the fire to end her life.
When Lord Shiva got this news, he ended the life of Daksh and started mourning carrying the burnt body of Sati in her arms. This mourning was creating a situation of catastrophe on Earth. In order to bring back everything in control, Lord Vishnu incised the body of Sati using his Sudarshan Chakra. It is said that different parts of the incised body fell on different parts of the Earth where Shaktipeeths were constructed. 
Kalmadhav in Amarkantak is the place where the left buttock of Devi Sati fell. Talking about the construction of the Kalmadhav Temple, it is said that Suryavanshi Samrat Mandhata constructed the temple here almost 6000 years ago. 
The Deity of Kamaldhav Temple
Devi Kali is prayed here by the name of Kalmadhava. Also, Lord Shiva is prayed in the temple who is in the form of Asitananda. 
The Architecture and Surrounding of Kamaldhav Temple
The architecture of this ancient temple is extremely beautiful as it is made up of completely white stones. The devotees have to climb 100 steps to reach up to the actual temple. Thus, the temple is at a height and from there, one can have a mesmerizing view of the surrounding. 
Kamaldhav Temple is surrounded by a number of ponds and the Son river also flows nearby. Also, Amarkantak is the spot from where the River Narmada starts its journey that again offers a beautiful view. 
Apart from the water bodies, one can also have a view of the merging of two mountains here and these are the Satpura and Vindhya. 
When to Visit Kamaldhav Temple?
Kamaldhav Temple is located within the lush greenery of Amarkantak and has charming weather throughout the year. Hence, devotees, as well as nature lovers, can visit this place any time of the year.
But devotees believe that paying a visit to the temple during certain festivals makes their journey even more pious. Some of the festivals during which you can actually visit the temple are:
Sharad Purnima,

Ram Navami,

Somvati Amavasya,

Navratri,

Deepawali, and many others. 
Navratri is the biggest festival that is celebrated twice a year and special arrangements are made in the temple. There are special rituals that are carried on such as offering homemade sweets and other ingredients to the Devi. 
Apart from Navratri, Shivratri is another major festival that is celebrated with great pomp show in the temple, praying Lord Shiva. Devotees offer milk, honey, and other elements that are known to be the favorites of Lord Shiva. 
Other Nearby Places to Visit
Once you have paid your visit to the Kamaldhav Temple, there are also many other attractive spots nearby that you can pay a visit to. Some of the other places where you can visit are:
Ma Narmada Temple

Shri Amareshwar Mahadev Mandir

Pataleshwar Mahadev Mandir

Gayatri Sarovar

Doodh Dhara Waterfall

Kapildhara Waterfall

Kabir Chabutara

Gayatri Shakti Peeth'
Apart from these many places, you can also take a glance at many ancient temples nearby that were constructed during the Kalachuri period. 
Reaching Kalmadhav Temple, Amarkantak
There is no such direct access to Amarkantak apart from roadways. Once you have reached the nearest railway station or the nearest airport, you can take roadways to reach Amarkantak. There are several buses available today that can drop you at Amarkantak or you can also take cab services as per your comfort. 
Railways: The nearest railway station is Pendra from where Amarkantak is around 38 km. If you are taking a cab service, it should take you around an hour to reach Amarkantak from Pendra railway station. 
Airways: The nearest airports to Amarkantak are Jabalpur and Raipur. While you may not get direct flights for Jabalpur from a number of cities, reaching Raipur airport is much more convenient in such a case. Amarkantak is 228 km away from Raipur while 222 km away from Jabalpur.