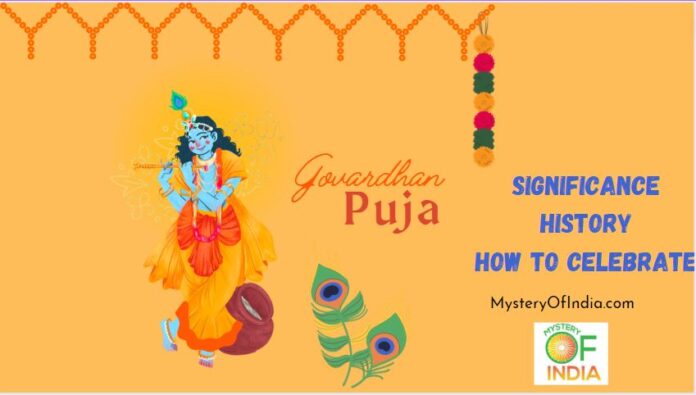 Govardhan Puja (The 4th Day of Diwali)- Significance, History, and Everything you need to know!
Govardhan Puja is a Hindu festival that is celebrated in the month of October or November. The puja commemorates the lifting of Govardhana Hill by Lord Krishna to save the people of Vrindavan from Indra's wrath.
People celebrate this event by making small replicas of Govardhana Hill out of cow dung, and then decorating them with flowers and other items. They also offer prayers to Lord Krishna and make special food offerings to him.
This puja is especially important to the Vaishnavas, who believe that Govardhana Hill is a manifestation of Krishna himself. It is also believed that by performing this puja, one can please Lord Krishna and obtain his blessings.
The Story Behind Govardhan Puja
Govardhan Puja, also known as Annakut or Padayani, is a Hindu festival that celebrates the victory of Lord Krishna over Indra, the king of gods. The story goes that once upon a time, there was severe drought in Braj (the land where Krishna grew up). All the farmers and animals were suffering from hunger and thirst. To save them, Krishna lifted Mount Govardhana on his little finger and held it aloft for seven days straight!
This enabled all the people and animals to take shelter under the mountain and get relief from the harsh weather conditions. When Indra saw what had happened, he realised his mistake of trying to harm Krishna's devotees and asked for forgiveness. Since then, every year on this day Hindus offer their thanksgiving to Govardhana by decorating it with flowers & fruits along with preparing special meals which are shared among family & friends.
This festival also holds great significance in the Vaishnav tradition. Govardhana is believed to be a representation of Krishna himself, and by worshipping it devotees are actually paying homage to the Lord. In some temples, special pujas are performed on this day where small replicas of Govardhana hill made out of cow dung & hay are worshipped.
Significance of Govardhan Puja
Govardhan Puja is celebrated on the day after Diwali and marks the end of the four-day long festivities. Govardhan Puja commemorates Lord Krishna's victory over Indra, the god of rain and thunder.
In order to put an end to Indra's tyrannical rule, Krishna lifted up a mountain on his little finger for seven days and nights. This act saved the people of Vrindavan from being drenched in incessant rains and floods brought about by Indra's anger. Govardhan Puja celebrates this event and thanking Lord Krishna for his protection. Govardhan Puja is an important festival not just for the Hindus but also for the Jains.
This is because it marks the beginning of their new year. For them, this day holds a lot of significance as it is believed that on this day, Lord Mahavira attained Nirvana or salvation. The Jain community celebrates this event by decorating their temples and houses with lights and flowers. They also prepare special food items to offer to Lord Mahavira during puja ceremonies.
How do Devotees Celebrate Govardhan Puja?
Govardhan Puja falls on the day after Diwali and commemorates Lord Krishna's victory over Indra, the king of gods.
Devotees celebrate this day by making small mountains out of cow dung and decorating them with flowers and fruits. They then offer prayers to Lord Krishna and seek his blessings. Afterward, they feast on a sumptuous meal consisting of various traditional dishes prepared using milk and butter.
The entire festivities last for five days and nights, culminating in a grand procession called Dahi Handi held on the fifth night where people form human pyramids to reach an earthen pot filled with curdled milk suspended high up in air!
What Rituals do Devotees Follow on Goverdhan Puja?
The rituals followed during Goverdhan Puja are very simple yet extremely significant. The first step is the purification of mind and body through baths or ablutions in holy water bodies like rivers, lakes, or ponds. After this, one must dress up in clean clothes and offer food as naivedya (food offering) to Govardhana Hill.
This act represents our reverence and gratitude to nature, which provides us with everything we need for survival, including air, water, and food. It also reminds us that we should care for Mother Earth as she cares for us humans. The next ritual entails circumambulating Govardhana hill seven times while chanting Lord Krishna mantras such as "om namo bhagavate vasudevaya."
Finally, we pray to Lord Krishna by saying, "Swamiye saranam ayyanirum," meaning "Oh god! "Please protect me." By doing all these things mentioned above, we please Govardhaneshwar (Lord Krishna), who protects his devotees from all troubles throughout their life!
When is Goverdhan Puja Usually Celebrated?
Goverdhan Puja is a festival that is celebrated by Hindus all over the world. It usually falls on the month of October or November and commemorates the day when Lord Krishna lifted Mount Govardhana to save his village from Indra's wrath.
This year, Goverdhan Puja will be celebrated on Tuesday, October 25th. On this day, Hindus will offer puja (worship) to Lord Krishna and perform special prayers and rituals. They will also decorate their homes with flowers and lights in honour of him.
In some parts of India, people make large effigies of Lord Krishna which they carry around town in procession before burning them at nightfall. So, if you want to join in the festivities this year, mark your calendar for October 25th!
Summary
As you can see, Govardhan Puja is an important festival in India. It's a day to worship Lord Krishna and celebrate his victory over Lord Indra.
You can celebrate the festival with your family and friends by making a small hill of clay or sand and decorating it with flowers. You can also make food offerings to Lord Krishna. The most popular food offering is called "dahi-bada". This consists of curd rice which is made by adding curd to steamed rice.
You can also invite your friends over for a delicious meal on this day. It's an opportunity to get together with your loved ones and share some good food while being grateful for everything you have in life!