Temples at Bateshwar
An interesting thing about Madhya Pradesh is that you will discover a number of mysterious spots with fascinating history here. One such spot is the Morena district which is located at a distance of about 34 km from Gwalior. This place is home to a huge collection of very old temples that are collectively known as Temples of Bateshwar. 
A strange fact about these temples is that they were discovered just a few years ago while the construction of these temples dates to the ancient years.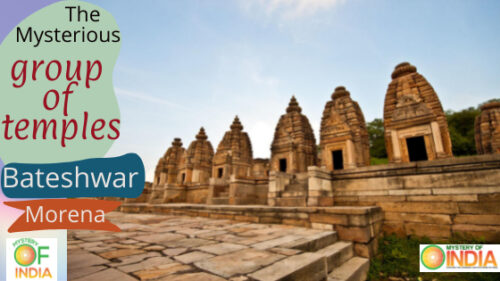 Discovery of the Temples of Bateshwar
To understand the discovery of these temples, we have to time travel to the year 2005. It was in this year when the Archaeological Survey of India started its expedition in this area and found a group of ancient temples. These temples were in damaged condition and required extreme restoration work. 
It was under the archeologist KK Mohammad that the great restoration work of the temples started. The temples were made up of sandstone and the team restored these temples stone by stone to create a miracle that stands in front of us. 
In total there are 200 sandstone-made temples and this whole group of temples collectively is known as the Temples of Bateshwar. 
So, how did this huge collection of temples vanish all of a sudden before 2005?
During the expedition and research, archeologists found out that these temples are quite ancient and it was during the 14th Century when due to an earthquake, these temples not just got destroyed but also a major part of it went underground. 
The dacoits of Chambal found this area to be a serene place and a perfect spot for their hiding due to the devastating condition. Hence, it was only after the escape of the dacoits from this spot that the archaeologists started working on these temples in 2005.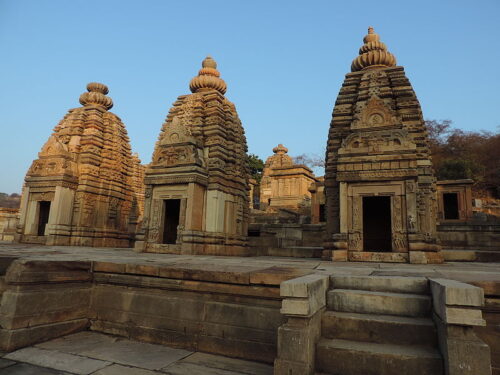 History of the Temples of Bateshwar
The actual construction date of these temples is still not confirmed but as per the researchers, it should be somewhere between the 9th and the 11th Century when these temples may have got constructed during the reign of the Gujar Pratihara Dynasty. 
Among almost 200 temples or more, the largest one is devoted to Lord Shiva and the locals call this temple by the name of Bhuteshwar Temple. Apart from Lord Shiva, there are also many other temples that are devoted to the other two eminent deities of the Hindu culture and these are Lord Vishnu and Devi Shakti. 
The temples are known to have different elements in them that denote different themes or religious meanings. Researchers are able to decode only a few of them till now. According to such research, there are some temples representing the Navagraha while there are some other temples that showcase the Dashavatar or the 10 incarnations of Lord Vishnu. Apart from these, there are also some temples that showcase Saptamatrikas, a symbol of Shakti in the Hindu religion. 
The diversity of themes shown in different temples found here also offered a hint to the researchers that maybe this area was a spot for religious art and architecture during the 10th century or so. 
The View at the Temples of Bateshwar
This area is not just a spot for architectural excavations and beauty. Also, this place has become a tourist attraction in Madhya Pradesh. Surrounded by forests, it is a serene spot that is perfect for picnics and even having a look at the ancient temples of India. If you are planning to visit the Temples of Bateshwar, make sure to have ample time in hand because you will not even realize how you have spent a good chunk of your time while witnessing the temples and the surroundings here. 
How to Reach the Temples of Bateshwar? 
Though this area is quite serene in nature, it is connected with different parts of Madhya Pradesh and India through different modes of transport. 
Airways: The nearest airport to Morena, where these temples are located, is Gwalior. You have to travel just 30 km by road from Gwalior airport to reach Morena to visit these temples. 
Railways: You will find a railway station in Morena that connects to different other parts of Madhya Pradesh such as Gwalior and Bhind.
Roadways: Today, there are regular bus services to Morena from other districts of Madhya Pradesh. Also, you can travel to this place easily using your own car.