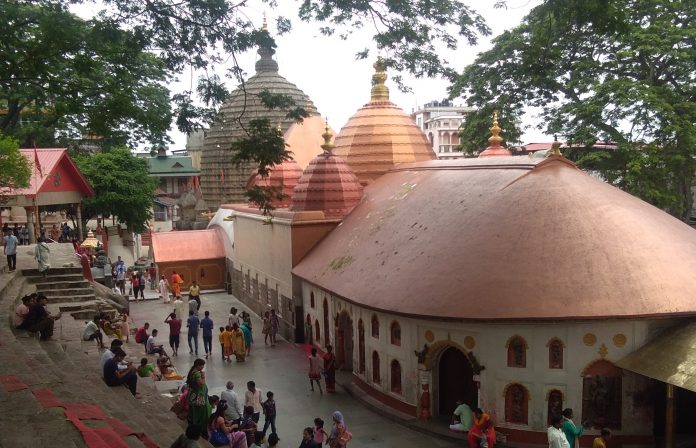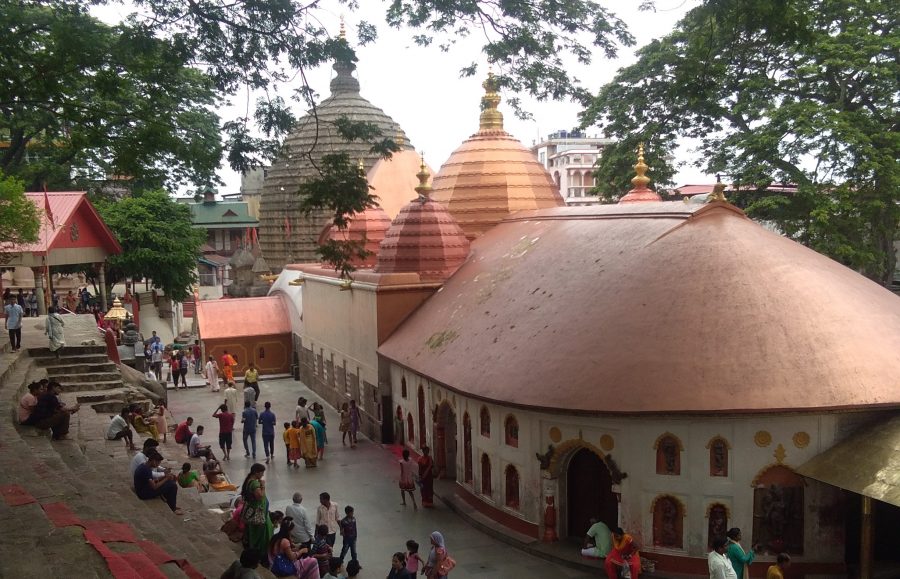 Kamakhya's unique tradition of the vagina worshipping
There is a total of 51 Shakti Peethas that exist in different corners of  India. But among all these 51 Peethas, the Kamakhya Shakti peetha is considered the most important and powerful one.
Now maybe a question arises in your mind that why Kamakhya Dham is so powerful than others and what makes it different from the rest 50?
We will answer all these questions in this article.
So the first question is…
Is it the vagina worshipping tradition at Kamakhya temple, true? – Chapter 1
Believe it or not but the vagina worshipping tradition at Kamakhya temple is true.
The root of this fact belongs to a mythological story from two Hindu Puranas. They are Kalika Purana and Yogini Tantra.
According to Kalika Purana and Yogini Tantra, when Lord Vishnu separated Devi Sati's dead body with his Sudarshan Chakra then it got divided into 51 parts.
And all those 51 parts dropped down into different corners of India.
Somewhere dropped Sati's hand, somewhere feet and somewhere breast. But most importantly, a part of her body, which was her vagina fallen down at a place called Kamgiri, near Nelachal hills, Guwahati.
Later in the 8th century, the ruling Mlechchha dynasty built a temple at this place and they named it 'Kamakhya temple' or 'Kamakhya Dham'.
Chapter 2
At present, this temple is considered to be a replica of the goddess Sati's vagina. Inside, on the main part, there is a vagina-shaped idol also vested.
They believe it as Devi Sati's elytron.
People from all over India come here to see and worship this vagina idol around the whole year. Almost all the time, the priests of the temple keep worshiping it.
Most of the Sakta creed believes that praying this idol will fulfill their desires.
Why this Shakti Peetha is perused as the most powerful?
Women's vagina is the entrance and start of human life. In Hinduism, it is considered a sacred natural phenomenon.
On the other hand, it stands for goddess Sati's elytron; this is why its significance is much higher than the other 50 Shakti Peethas.
Who was goddess Sati and why did she die? –
Chapter 1
Goddess Sati was the wife of Lord Shiva and the daughter of Asurraj Daksh (devil king).  The story begins with the love between Lord Shiva and Sati.
Sati started loving and considering Shiva as her husband for the whole life; but Daksh, her father did not like it as she does.
He thought Shiva as poor and one of the gods from the lowest groups. All in all, Daksh hated him a lot.
One day contrary to her father's desire she married Shiva through the Gandharva rites. When Daksh came to know about this fact, he went furious and immediately ended all his relationship with Sati.
Chapter 2
After passing a few years from this incident, one day Daksh organized a grand worship program at his palace. There he invited almost all the gods and deities, except Sati and Shiva.
Sati also had a desire to go to that program and meet her family again, but Shiva knew that they were uninvited and it was wrong visiting there. He also explained to her a lot, but due to Sati's insistence, he obliged to go there to participate.
Finally, they went to attend the event; but seeing them both together, Daksh got very angry. Immediately, in front of the large crowd, he started insulting them very badly.
Sati gets a huge shock from this incident. Somehow she managed to bear the humiliation happened to her, but she could not bear the insult that happened to her husband.
In deep misery, she gave up her life in the fire of the Yagya.
Chapter 3
This time, due to Sati left her body Lord Shiva gets highly furious on Daksh. Now Lord Shiva wanted to take revenge from the all, for whom his wife had to sacrifice her body.
Due to sorrow and fury, Shiva started 'Tandav Nritya' around the whole world by carrying her dead body on his shoulder.
Seeing and feeling the wrath of God, the deities including Indra also started getting scared. They knew that if Shiva did not calm down, the whole world would end completely.
Therefore, finally, they went for requesting Lord Vishnu to find out a way to clam his anger down.
Vishnu tried many times but all failed. At the very end, as a way to control Shiva, he cut the goddess Sati's dead body by his Sudarshan Chakra.
And as we mentioned, it went into 51 parts.
What is the secret behind the unique festival 'Ambubasi mela'?
Every woman has menstruation every month. This is a natural law. But people of Hinduism believe that contrary to this monthly menstruation period, goddess Sati or Kamakhya has to follow her menstruation pain for only once every year.
They believe, this goddess gets menstruated in the mid of every year's June month. Hindu people celebrate Ambubasi mela in these days.
Because of this temple is a representation of the goddess vagina therefore a belief has also been running that it gets menstruated too.
I don't have any deep knowledge about this phenomenon but during these days the Brahmaputra River's water near itself gets red-colored.
Most of the people believe this happens due to mother Kamakhya's menstruation.