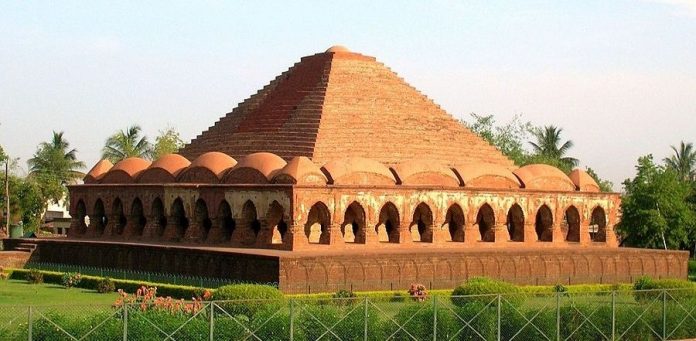 RasMancha is a pyramid like building located at Bishnupur, West Bengal, India.The name Rasmancha implies 'a stage for dances'. The massive building was built in between the years of 1557 – 1600 A.D. by Malla King, Vir Hambir to celebrate the Vaishnava Ras festival.

During the Malla Regime, all the portraits from the neighbouring shrines were brought during the Ras Festival and exhibited in the open doorways for common public. The monument was also used to stage dances every evening to celebrate scenes from the Krishna Leela. However, it is no longer a temple today; it is an ancient monument now. The festival was last celebrated in 1932 after which the temple was declared a protected monument by the Archaeological Survey of India.  Nowadays the annual festival has been shifted to the nearby grounds near the temple of Goddess Durga.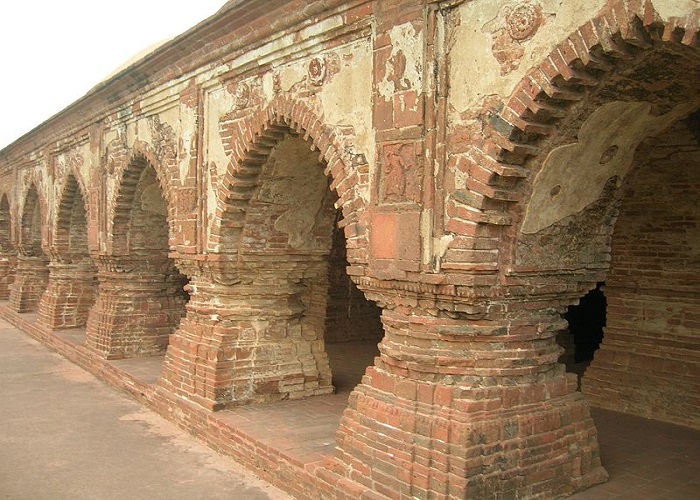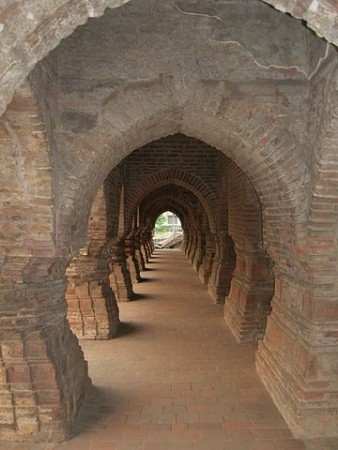 The temple is absolutely unique in style and architecture, not only in Bengal, but in India. It is the oldest brick temple in the town.  The red brick structure of the building is in the form of a pyramid summit which is built upon a roomy platform. The foundation of the structure is 1.5 meters high with each side measuring 24.5 meters and rising to a height of 11 meters. It consists of a single chamber with an elongated tower which is surrounded by hut-shaped turrets. The masterpiece has 108 doorways and houses some large ancient cannons which date back to the Malla dynasty. The temple has three consecutive circumblatory galleries. The archways of these galleries are highlighted with terracotta lotus motifs, enclosing the sanctum of the holy place.

The masterpiece is maintained by Archaeological Survey of India (ASI) which provides special illumination facilities to conserve the fragile terracotta crafts. The entrance to this monument would cost Rs. 5 per head. This building is located near the Archaeological Museum, which is also an interesting place to visit.